A lady in the US has come up with the idea of using Smartpots with water by using a bed of perlite and a reservoir so that they have a constant supply of water.
This achieves the best of both worlds – air pruning of roots combined with a SIP (self irrigating planter) system. And it's beautifully simple.
Here is the basic diagram.
It works by wicking, the water being drawn up through the perlite and smartpot directly into the roots of the plant.  The important part is the top bit of at least one inch of perlite which is not sitting in water.
People are reporting explosive growth using this technique once the plant is 'dialled in'.  Check it out for yourself over at Grasscity. The thread is over 80 pages long last time I checked but most of the useful info is at the beginning.
There's also now a thread at International Cannagraphic.
Here's a picture of the system in action – with 2 weeks growth: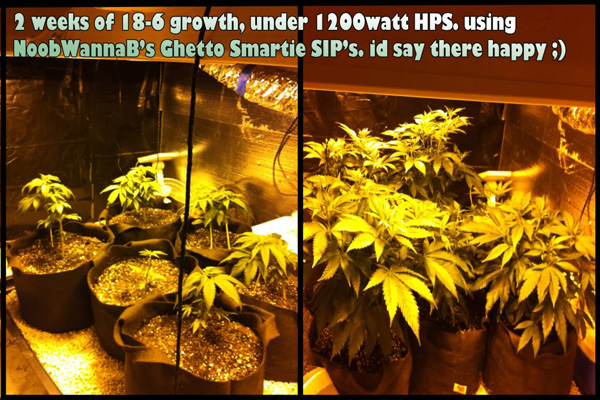 There are 'self watering trays' on the market but this is more heavyweight, and depending on the size of the reservoir can left alone for days or weeks – as long as there's room for the growth.
I'm going to be trying this out shortly, many thanks for the tip Noob!
How to get hydroponic growth without hydroponics

,