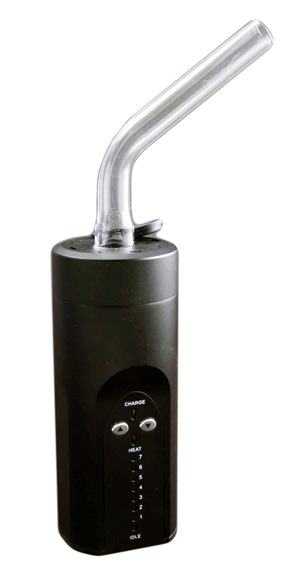 I got one of the first Arizer Solos, and must say that I have been very happy indeed with it.  Over a period of years.  There are drawbacks, of course, as with anything – however Arizer have created pretty much the perfect portable, in my opinion. This was my initial review in 2012.
It's worth noting that they have just released the new Arizer Air which looks like a space-age version of the Solo that has got even smaller.
I own an Extreme Q vape and a few other portables so I have alternatives to compare the Solo to. It beats the arse off every other portable I have tried when it comes to taste and big clouds. Nothing touches it that I have tried – so far.
The glass tubes make for a taste sensation, this feature sets the solo ahead of the competition, but it also presents a slight problem if you are prone to dropping things – broken tubes.  Breaking the tube of course totally shuts down the solo – unless you have a spare.  So spares are just essential. If you think you wont break any think again. It happens to everybody at some point, and it does not make for a fun day if a replacement is far away.
The other slight downside with the solo is that it cannot be used whilst it is charging (something that has been addressed with the Air) however you do get many uses from one charge, and the battery does last well.
There are no other downsides. The solo heats up fast and does not let you down, ever.  It fits in a big pocket, and is subtle in design. It looks sexy, and it delivers the goods. These things have made the solo a cult vape already with a huge following of happy users all over the planet. I know several people who are not even going to look at the new Air because they love their Solo so much.
In use, it takes a little getting used to initially as there is a very slight resistance in the airflow when you suck on the pipe. This I have heard has been adjusted slightly on later models. Anyway you get used to it fast and then it becomes easy to do huge hits producing large clouds of vapor. Time after time. Just make sure you have spare pipes or you will be kicking yourself I guarantee.
The unit does make a slight smell in use which obviously varies slightly on the type of weed that you are heating, and temperature setting used.  It's not a big deal really though.
So all in all a huge thumbs up for this vape. It has proven itself over a period of years to be an extremely reliable piece of kit.  Many describe the Solo as having changed their lives and I think I can see why.
What do you think? Did it change your life?