This is a guide to ordering weed online to the UK at Cryptonia Market. Please read all the instructions carefully and you will soon have some beneficial herbs being delivered through your letterbox.
If you'd prefer here is a guide to buying cannabis online at Empire Market. There is not a huge deal of difference, once you've bought your Bitcoin both are pretty quick processes which will probably take you less than 420 seconds.
1. Go get your Bitcoin
You might already have your coins ready in a wallet, in which case go to number 3 and continue down from there. If not, you will need to go and first buy some Bitcoin from somewhere like Coinbase or Local Bitcoins.
2. Download and install Electrum.
Get your own private Bitcoin wallet set up so that you can receive Bitcoins from Coinbase and then send them on to your buy when you are ready. Do not send Bitcoins directly from Coinbase to Cryptonia.
3. Go and visit Cryptonia
Cryptonia is an established market where you can find the extremely business-like 'Radarbreeder'.
He has a very extensive selection of cannabis buds as well as hash, shatter, edibles and oil for sale.
Radarbreeder is also uber-reliable and has built up an excellent reputation over many years on Dream Market, Alphabay etc.
You're in safe hands with this man.
Sign up to Cryptonia with a Tor Browser using this Tor link then log in to the market and you will see the welcome screen as shown below.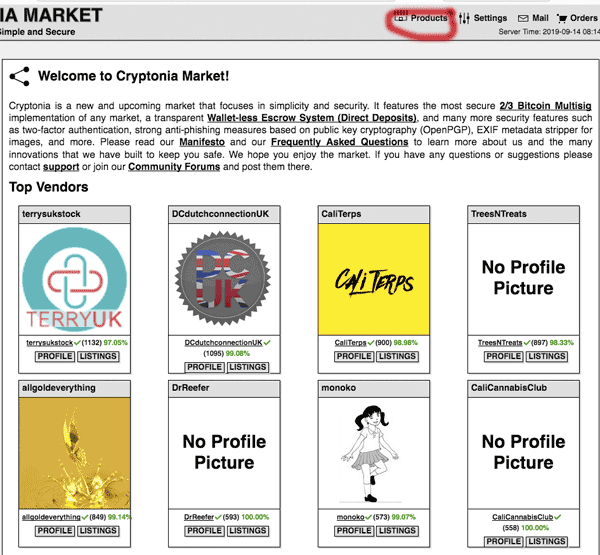 4. Create Your Account
Once you have created your account (which takes seconds) you may wish to adjust the currency of your account to GBP, which can be done in the 'settings' section. This will set UK pricing so you can see the correct prices.
Next click on the 'Products' link at the top of the page shown above.
5. Find Radarbreeder
Now you can use the search box on the left hand side to find Radarbreeder's profile. Just enter 'Radarbreeder' and press search.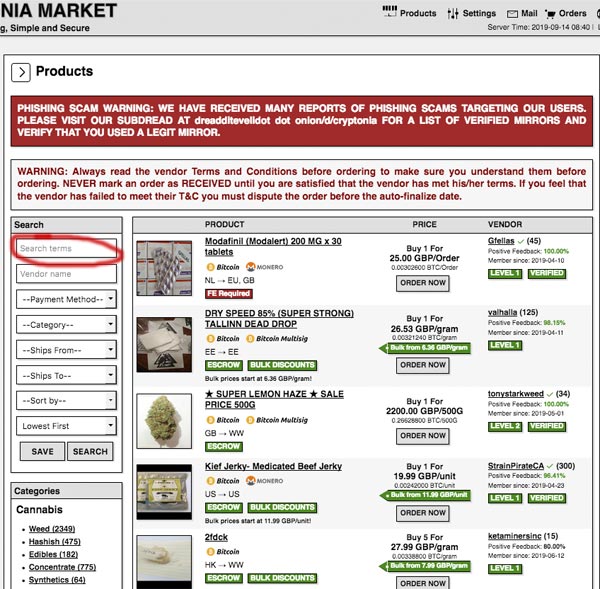 A list of his products will appear – now under the vendor column on the far right you can click on the first listing that says 'Radarbreeder' (circled in red, see below) and this will take you to his own profile page where you can see all of his products and feedback.

From this profile page (shown below) at the top right there is a small box which has a drop down menu if you move the mouse over it.
Under here you will find a link saying 'view vendors listings' this is where you can see the entire selection of available products, and there are a few!
From this stage it's a simple matter to browse and select your desired product.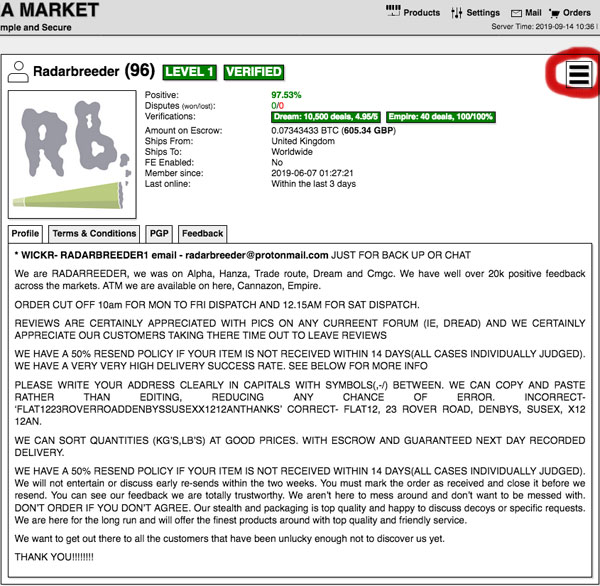 6. Place Order
Once you have found what you want to order select your desired shipping option from the drop down box and then click 'place order'.
7. Make Payment
At this next page you'll need to enter a refund address in order to proceed. Just open up your Electrum (or otherwise) Bitcoin wallet and click on 'receive' and copy that long address. This protects you if something goes wrong.
Once you have put your address in the space, click on the 'Pay with Bitcoin'.
This will take you to a page where you then must enter your shipping address details.
Do this very carefully indeed and then press the 'confirm' button when you are ready.
You will now be taken to the the final screen where you will be given a Bitcoin address to send your payment.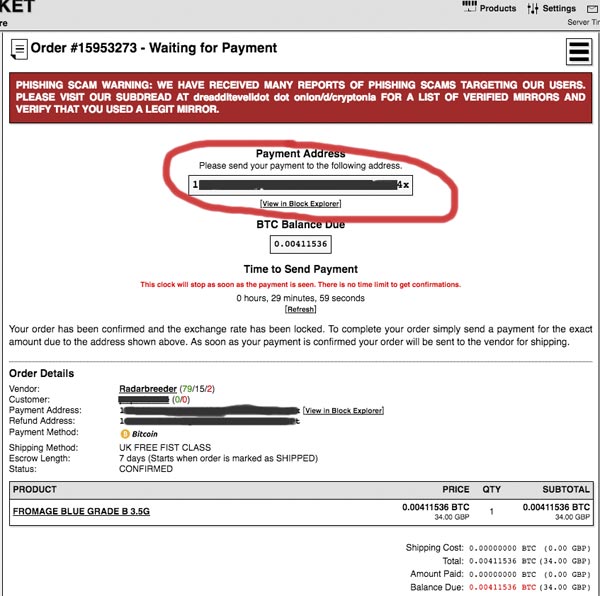 Do this immediately and make sure you have the fees turned on in your wallet to the maximum (see below) when you send to make sure the payment is sent as quickly as possible. This will ensure the smooth running of your order.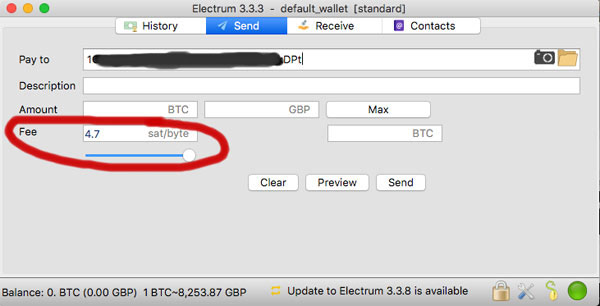 Should the above signup link to Cryptonia not work for any reason here is a list of Tor links to a selection of mirrors for Cryptonia.
(this entire list redirects to tor .onion links – they will not open in a normal browser)
http://bit.ly/cm-mirror1
http://bit.ly/cm-mirror2
http://bit.ly/cm-mirror3
http://bit.ly/cm-mirror4
http://bit.ly/cm-mirror5
http://bit.ly/cm-mirror6
http://bit.ly/cm-mirror7
http://bit.ly/cm-mirror8
http://bit.ly/cm-mirror9
http://bit.ly/cm-mirror10
http://bit.ly/cm-mirror11
http://bit.ly/cm-mirror12
http://bit.ly/cm-mirror13
http://bit.ly/cm-mirror14
http://bit.ly/cm-mirror15
http://bit.ly/cm-mirror16
http://bit.ly/cm-mirror17