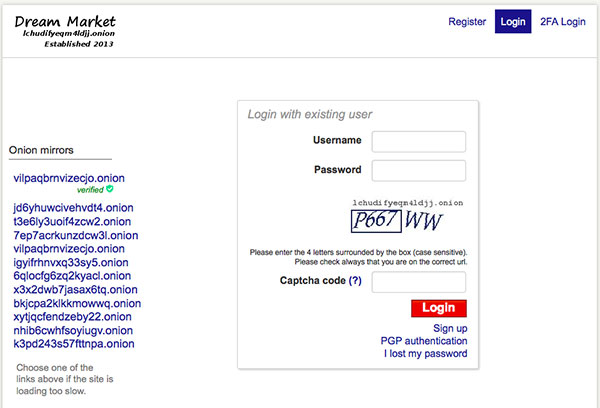 Looking for ways to get access to Dream Market? It's a lot easier than you might imagine.
Dream Market is one of the current favourite dark markets that you can get access to using the Tor browser. That is the only thing you need to access the markets unless you want to be very very safe then use a VPN (virtual private network) that will mask the location of your internet connection. Nord VPN is probably the safest.
In my opinion if you are buying small amounts of personal drugs in the UK then getting a VPN may be overkill. This is not the case in other countries.
Anyway, here are the urls:
http://pjaopjqvjk6be4wz.onion
http://s2c4cmjtvqvdlpw4.onion
http://zyhljpm635qgy7wj.onion
http://ryzkxdz2feh5xoz7.onion
http://qf7krcylpc4iswho.onion
http://fkqzda67aavjkhui.onion
http://6qlocfg6zq2kyacl.onion
http://lchudifyeqm4ldjj.onion
http://wet4o7ali46htxkm.onion
http://vilpaqbrnvizecjo.onion
http://t3e6ly3uoif4zcw2.onion
http://exhjtuety6ml5u54.onion
http://wn2vtsetsdggve45.onion
http://kzda2greas4thbbp.onion
(This page was updated on the 4th February 2019)
There are various urls as sometimes one can go down, and they are sometimes slow, you should not expect the same kind of reliability and speed that you get from normally browsing the normal Internet, expect it to be offline from time to time and try another mirror or two if it is.
Accessing Dream Market
Once you have downloaded Tor it's a simple matter of copying and pasting one of the above urls into your Tor browser and Dream Market should load up.
You can then create an account and go and browse the vast array of sellers available to you. Dream has a lot of similarity with eBay in that buyers leave feedback about sellers so that it is in the best interests of the seller to provide an ongoing and decent service otherwise they end up with bad reviews and won't get orders.
So make sure that you carefully check out the reviews of each seller which you can do by looking at their profile, there will be a number you can click on which is the number of reviews they have received, clicking on this number lets you see the reviews in detail.
This type of system forces the seller into supplying a consistently good product and is therefore a great advantage for the consumer. No need to meet some guy somewhere and do a deal, and no need to worry about quality. Once you get used to packages dropping through your letterbox from time to time you'll wonder how you managed before. It's like a cannabis dispensary with a delay.
You can search the market much like eBay, and importantly once you have searched for a product you can then apply a 'shipped from' filter to ensure that you are looking at items that are shipped domestically. There is no point in adding potential extra security problems with your order by ordering from another country. That's just asking for trouble, though some of it does seem to go on.
Of course if you prefer you can just navigate through the menus on the left under 'Drugs' but don't forget your geographical filter.
No Escrow
Dream operates a system of escrow which basically means that when you order your money goes into a type of 'middleman' pot where it stays until it is released by you, by finalising the order when the product arrives.
If a seller has been operating on Dream for a long time without issue they become trusted and on some vendors you will see 'no escrow' which means that they immediately get paid, but have built up so much trust that this is not a problem so if you see 'no escrow' you can rely on the fact the vendor is genuine.
When entering your address do make sure you check the box below to 'encrypt message' so that your personal details are scrambled.
For more details on how to buy weed on Dream see my full guide to buying cannabis online.