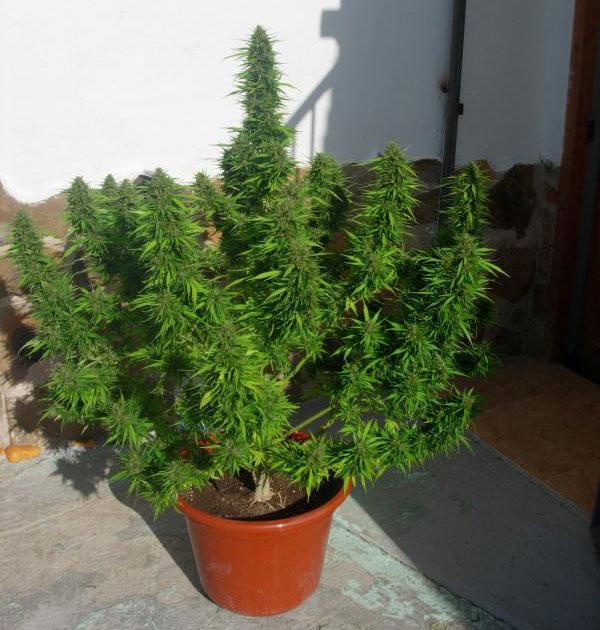 Picture from the Autoflower Network.
This page was updated on the 7th January 2020.
Autoflowering strains have come on in leaps and bounds over recent years, and now the renowned Sensi Seeds have some really nice examples, with people reporting great yields from the Sensi Skunk Autoflower. The kind of thing that would grow really well outdoors in the UK, even Scotland by the sounds of things it's very hardy.
Dutch Passion also have an excellent collection of autoflowering seeds including classics like Auto Blueberry and Auto Mazar. For super high yields check out their 'The Ultimate'.
The Magnum from Buddha Seeds is also a firm favourite which I found easy to grow. It has wonderful active high that helps you get stuff done. No growing difficulties at all and very consistent. Well worth your time. Details of growing the Magnum here.
Dinafem Cheese XXL is also wonderful and exhibits very long buds of fruity goodness in no time at all. This plant is in a league of its own. Really easy to grow and massive buds of cheesey type weed. A complete winner. A heavier, fun stone.
If you are purely looking for yield then Jack 47 Auto from Sweet Seeds literally explodes and is definitely one of the most powerful autos that I have seen. Nice taste and an up high, you can't ask for much more then this. She's a beast. Easy to get a few ounces per plant with this one in a large pot.
Sweet Afghani Delicious from Sweet Seeds also is an extremely reliable yielder with strong high.
Fast Buds have some great yielding plants too. They breed classic American genetics into autoflowers with fantastic results. Well worth checking out. Their Girl Scout Cookies is a particularly fierce and tasty cosmic Indica I wont be forgetting in a hurry.
Also, relatively new on the scene are Mephisto Genetics, who are making some remarkable autoflowers, using a lot of very high quality genetics these guys have quickly become very popular in the world of autoflowering seeds.
Seedsman have just released a Critical based autoflowering plant called 'Big' which promises yields of 190g of hard hitting indica buds per plant outdoors.