Dream Market is now closed. This article will be updated ASAP
Update:
There is a vendor on Tochka Market (Tor Only Link) selling edibles.
Once registered you can visit his store url here. (Tor link)
Do you need an easy by step guide to buying cannabis edibles on the Internet?
If so this page can help you to have edibles delivered to your door in no time at all.  All you need is a web browser, some money and a little time.
1. Get The Tor Browser
The first thing to do is get a browser that will allow you to browse the dark web, and that is Tor, which you can download and install via this link. Install this and then use it just as you would Firefox.
2. Open your Dream Account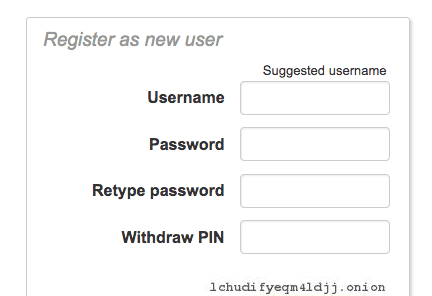 Once you have installed Tor open it up and then simply copy this link to open up Dream Market where you can easily create your account there.
No need to use your email address, just sign up for your account and you're ready to go.
3. Look for Edibles
Now for the fun part, log into Dream, look left and click on the 'Drugs' section.
This will open up to a wide menu of drugs, at this point try not to get distracted and click on the 'Cannabis' section.
Once you have done this you will see the the 'Edibles' menu. Click on it.
At this stage you are looking at the worldwide selection of edibles available on Dream Market. You can filter the results to have results only originating from UK vendors by changing the 'from' country to the UK and applying the filter as shown in the picture below.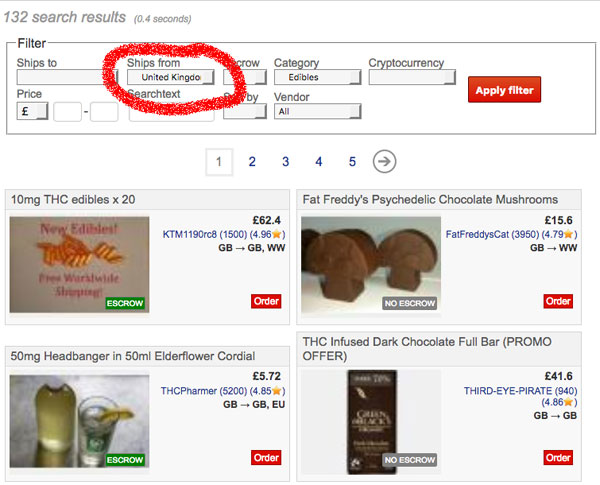 Make sure you check reviews by clicking on the vendors profile and taking a look at reviews of recent activity. This will stop you from being ripped off. Vendors are rated out of 5, and the number of ratings is shown just before that rating number. This gives you a great idea of how reliable they are.
Find something you like the look of and keep a note of the price, so you know roughly how much Bitcoin you need to buy. Also check for postage charges, which add to the final cost.
4. Make a note of your wallet address
In Dream Market navigate to /wallet by clicking on the number at the top right hand corner of the screen, here you can find your Bitcoin wallet address for Dream. This is the important bit. Do not mess this up. Carefully copy and paste this long string of characters to notepad or somewhere where you won't lose it. Below you can see what you are looking for.
5. Go buy Bitcoin and send to that address
If you don't already have Bitcoins, open an account with Coinbase or somewhere like Local Bitcoins. Both these places are well known and can be trusted – Coinbase requires more ID verification than Local Bitcoins though is probably slightly easier to use. It's worth the initial messing about. Local Bitcoins is more of an exchange bringing buyers and sellers together.
Once you have bought your Bitcoins you'll want to send them to your Dream Market address which you have ready. Here's how to do that from Coinbase. And here's how to do it from Local Bitcoins.
If you intend to do this a lot it is probably worth your while using a wallet like Electrum as a 'middleman' for this process though I have never had a problem. So to do this you would buy funds, and first send to YOUR wallet then send to Dream Market.
6. Order your product
Once your Bitcoin has arrived at Dream Market you can then order away. It will take at least 20 minutes for the funds to arrive, so be patient and try not to panic, Bitcoins don't get lost. You'll notice that your balance will change to being bold and an incoming transaction will be indicated on your wallet page once the Bitcoin is on its way.
Also understand that once you have successfully sent funds to your Dream Market wallet address, it will be changed to a new one, so don't let the fact that it has changed worry you. Once addresses have been used once they are replaced.
Make sure that you tick the box shown below that encrypts your address on ordering.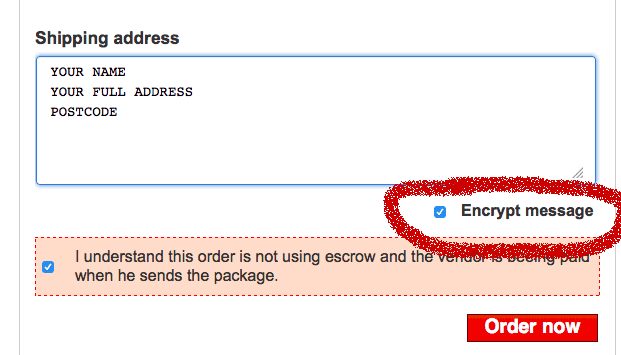 If the vendor is using 'Escrow' your Bitcoin will go into a holding area where the vendor cannot access it until you indicate your package has arrived. Trusted vendors tend not to use Escrow if they are established vendors then the payment will go straight through.
If they are using Escrow do ensure you log back in to Dream Market once your stuff has arrived and go to the order to 'finalise' payment and release funds to the vendor.
Remember Dream Market does go down from time to time and can be really slow. It's not Amazon!
Should you have any problems accessing Dream here are some official mirror urls that may work if one or another is not working:
lchudifyeqm4ldjj.onion
jd6yhuwcivehvdt4.onion
t3e6ly3uoif4zcw2.onion
7ep7acrkunzdcw3l.onion
vilpaqbrnvizecjo.onion
igyifrhnvxq33sy5.onion
6qlocfg6zq2kyacl.onion
x3x2dwb7jasax6tq.onion
bkjcpa2klkkmowwq.onion
xytjqcfendzeby22.onion
nhib6cwhfsoyiugv.onion
k3pd243s57fttnpa.onion
If you found this tutorial useful please feel free to share it with somebody who might find it handy.
Disclosure: Some of these links may earn me tiny amounts of commission.