What is a Cannabis Seed Affiliate Program?
A Cannabis Seed Affiliate Program is a marketing and advertising program that pays a commission to affiliates (or promoters) for each sale that is generated.

These programs are often used by cannabis-related e-commerce companies, as they can help to spread the word about their products or services. A special link is created which can track any sales back to you and you are rewarded for that purchase.

Affiliate Programs offer an effective way for cannabis-related businesses to advertise their products and services to wider audiences that were not available to them without such programs.

For you this means that you have an opportunity to create extra income by sending people to the seed shop that you choose to promote.

When somebody buys through your link you are then awarded with a commission from that sale. These are normally shown in your affiliate panel. Commissions are usually paid out on a monthly basis or when you reach a specific total which is often £100 or €100.
How to make money as a cannabis seed affiliate?
The best way to generate income as a seed affiliate is by having some kind of presence on the Internet.
This could be a blog or simply a social media group that is aligned with the subject of cannabis. Or a link in an email.
The more places that your link is seen, the more chance you have of generating commissions.
Best Cannabis Seed Affiliate programs
Here are some of the best affiliate programs in the world of cannabis seeds. I can personally vouch for the Vault and Seedsman, having used both of these programs myself, they are run professionally and provide good customer service to their affiliates.
1. Seedsman Affiliate Program
For those interested in growing a small amount of cannabis for personal use, Seedsman sells a wide range of seeds from all the major cannabis seed brands like Sensi Seeds and Barney's Farm. They also have their own range of feminized and autoflowering seeds which have a good reputation.
The company dedicates a percentage of its profit to promoting cannabis reform and the need for legal change in the UK as well as the wider world. Seedsman do this by attending cannabis trade shows and conferences as well as by supporting cannabis lobbying organizations and charities that are dedicated to the cause.
The Seedsman Affiliate Program is powered by Post Affiliate Pro, the leading affiliate tracking software. In order to track referrals, the company uses cookies and IP address to track a user's activity. During the affiliate's visit to the site, the affiliate system will register a referral and place a cookie on the user's computer.
New affiliates are paid 15% of sales with the option of increasing to 20% with higher volume. Tracking cookies last for 60 days from the first click, so once you send a visitor to them, you will be paid for any sales that person makes for a period of 60 days from the initial click.
Check out the Seedsman Affiliate Program here.
2. Fastbuds Affiliate Program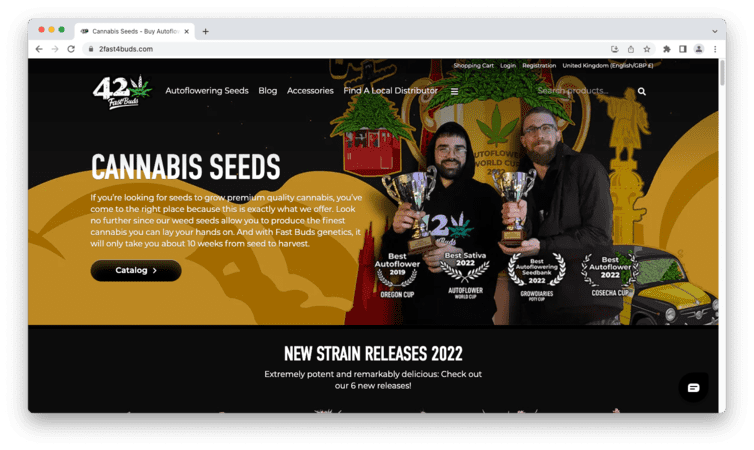 Fastbuds have been around for quite a few years now and have built up a great reputation for their autoflowering cannabis seeds. I have grown out their Girl Scout Cookies some years back and it was a very memorable experience indeed, these are seriously impressive genetics.
Their plants have won numerous awards including the Grow Diaries 2022 cup for best autoflowering Seedbank and Best Sativa 2022 at the Autoflower World Cup. They offer professional customer service as well as having a plethora of useful grow information about each particular strain on their website.
Their affiliate program offers a very generous 20% of sales (up to 50% apparently) and they provide an extensive set of promotional materials. Tracking cookies last for a massive 180 days! Their average order is €100.
Definitely well worth checking out these guys have made a huge impact in the world of autoflowering cannabis and carry many popular US strains.
Check out their program here.
3. The Vault Affiliate Program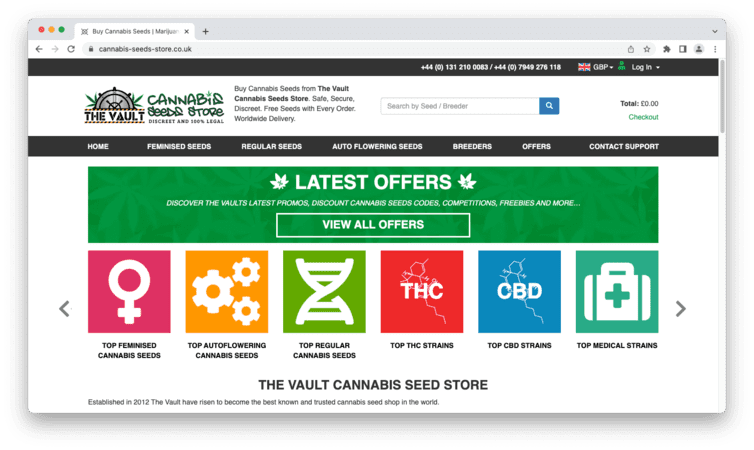 The Vault is an excellent UK cannabis seed bank that has over the years built up an excellent reputation for their customer service and wide range of cannabis seeds. Established in 2012, they have been in the seed business now for over ten years.
They carry all the brands you would expect such as Barneys Farm, DNA Genetics and many many others.
The Vault offer 10% of all sales that you generate and make payouts once £100 is reached. Their online tracking enables you to see where your sales are coming from as well as balances and payouts made.
You can definitely trust these guys, payments are made in a timely fashion and they are very good at getting back to you with any queries. Their affiliate panel includes banners of various shapes and sizes and is very easy to use.
Find out more here.
4. ILGM Affiliate Program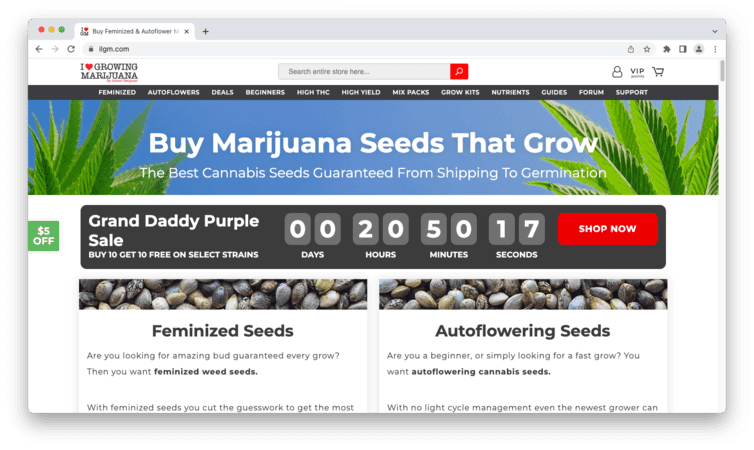 I Love Growing Marijuana is a US facing seedbank and can deliver seeds to all US States. They do not deliver to any other countries at this time.
They have been in operation for over ten years now and they supply not only seeds but a high level of support to growers in the form of guides with excellent support for beginners. Beginners can buy a dedicated grow kit which contains everything needed to start growing your own!
Reviews are very positive and they have built up an approval rate of 93% on the Kayo review website.
Their affiliate section includes a large selection of banners, and they pay a generous 20% of all generated sales.
More information here.
5. Seed Supreme Affiliate Program
The Seed Supreme Seedbank is a one-stop shop for high-quality cannabis seeds, including feminized seeds, autoflowering seeds, landrace seeds and high-THC strains, all at outstanding prices.
They stock high-quality marijuana seeds from a collection of renowned growers and breeders from the Netherlands and Spain through to highly regarded Colorado seed banks.
Their website is stated to have one of the highest conversion rates in the industry.
Seed Supreme's affiliate program offers 20% of the sale value and their tracking cookies are good for a whopping 89 days, which is a pretty good feature for any affiliate program.
They currently only ship to destinations inside the United States.
Find out more here.
6. Green Affiliates Affiliate Program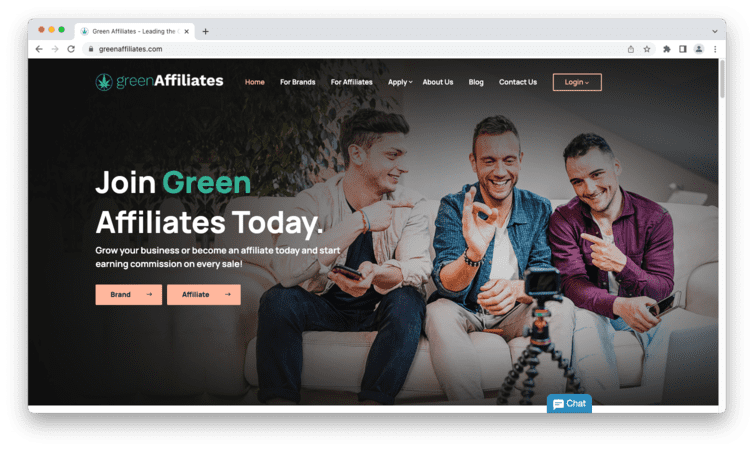 Green Affiliates are a US focussed repository of affiliate programs, so when you sign up with them you are automatically approved for numerous high paying affiliate programs for the cannabis industry, as well as many cannabis seed suppliers.
Payments to affiliates are made monthly with commission of up to 30% available depending on volume of sales generated.
This is a dedicated cannabis affiliate network with some quality programs onboard including Crop King Seeds, MJ Seeds Canada, the Pink Formula and many many others. Well worth checking out.
Find out more here.
7. Premium Cultivars Affiliate Program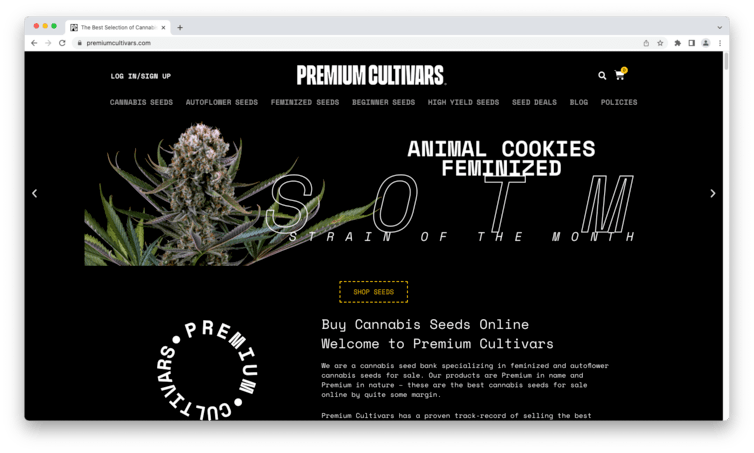 Premium Cultivars takes pleasure in offering quality cannabis seeds for sale online.
You may be confident that any cannabis seed you purchase from them will be of the highest possible quality.
Premium Cultivars has years of combined cannabis business knowledge in order to acquire and manufacture the best seeds for their loyal fanbase.
They sell the greatest cannabis varieties in the United States, including autoflower cannabis seeds and feminised seeds.
Whether you're a seasoned grower or a complete newbie, Premium Cultivars has the cannabis seeds for you.
Premium Cultivars is one of the most reputable cannabis seed providers in the United States; check out their offerings for some of the most intriguing genetics available in the United States today.
Find out more here.