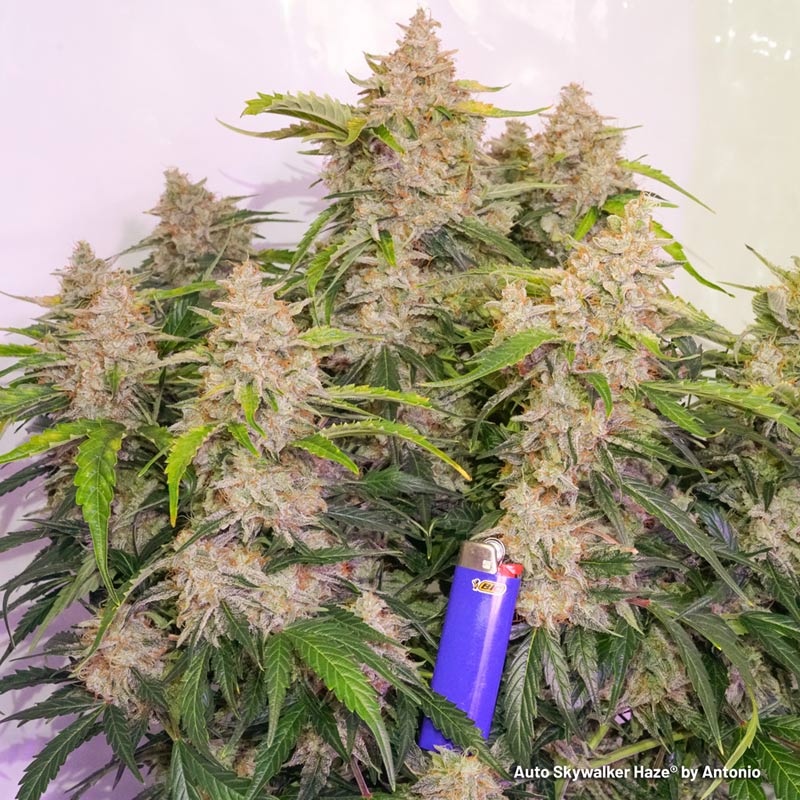 Recent independent lab-test results revealed over 26% THC-levels on Auto Skywalker Haze, making this strain the most potent autoflower ever encountered to date.
With genetics from Skywalker Haze and Auto Amsterdam Amnesia, this sativa-dominant cross is also one of the highest yielding autoflowers ever powered by Dutch Passion Seed Company.
This quick grow report and smoke review gives you an overview of how to grow plenty of mind-melting Auto Skywalker Haze buds in around 12 weeks from seed to harvest.
Growing Auto Skywalker Haze
Whether indoors or outdoors, Auto Skywalker Haze grow into a compact and bushy plant with a hybrid plant and leaf structure which leans slightly to the Sativa side of the genes.
She has a very good internodal distance and the flowers really stack from the bottom to the top of the branch.
They grow into thick buds with very chunky and heavy flowers, the branches just about managed to support these heavy blooms! This characteristic makes Auto Skywalker Haze a great autoflower strain to use in a SOG grow.
One key recommendation from Dutch Passion is to start autoflower varieties in their final container for the plants to reach their full height potential. But don't be afraid if you lack space. Some indoor phenotypes grown in 0.25L square plastic containers for for about 3,5 weeks before being potted up produced not less than 110g of dried buds while there were only 50cm in height and just as wide as their pot.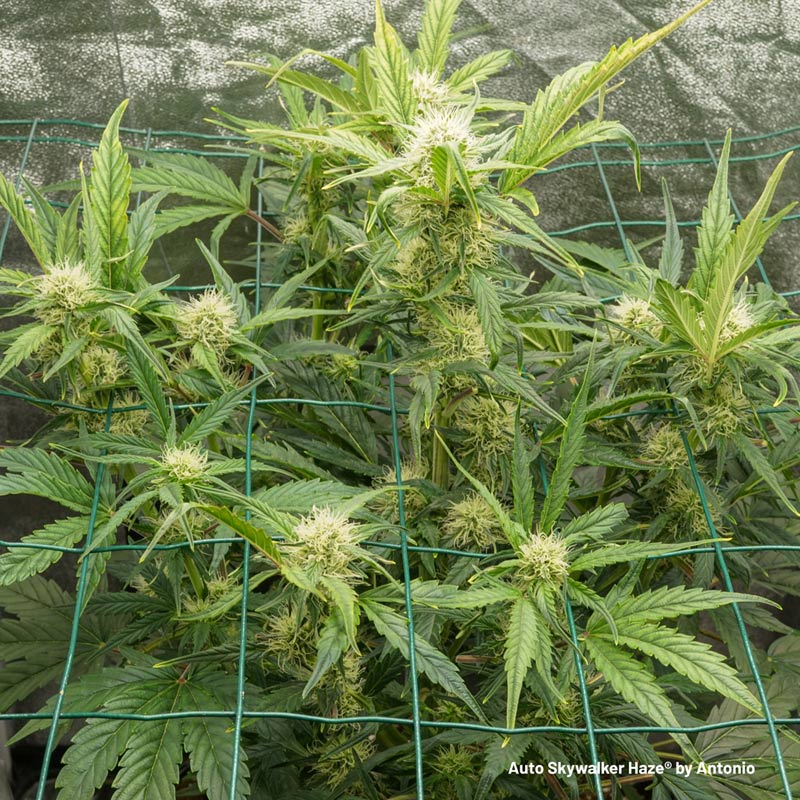 Auto Skywalker Haze has a very good calyx-to-leaf ratio. You can manicure this lady in no-time. Just remove her outer leaves and hang the remaining complete plant upside down in your drying room.
Or cut away the side stems from the central stem and manicure all the branches separately with scissors. Use gloves when trimming because your hands will get very greasy… Auto Skywalker Haze is an excellent strain to make scissor hash!
The combination of the bag appeal, the aroma and the potency of the high really is special. The cured buds look simply amazing and one small bud can leave you stoned for many hours.
The effects can be described as a good mix of a mental high and a body effect that makes you feel (mainly) euphoric and relaxed. Perfect to chill after a rough day or for during the weekend when you have some time to sit back and relax!
Auto Skywalker Haze smoke review
| | |
| --- | --- |
| Aroma | ★★★★½ (4,5 stars) |
| Taste | ★★★★☆ (4 stars) |
| Effect | ★★★★½ (4,5 stars) |
| Bag appeal | ★★★★★ (5 stars) |
| Overall rating | ★★★★½ (4,5 stars) |
This is a great strain to smoke, this autoflower has such a potent effect and such great bag appeal that it is impossible to distinguish from photoperiod cannabis buds.
There have always been a lot of growers saying all autoflowers are rubbish, but we feel this beauty proves otherwise!
Buy your own stash of Auto Skywalker Haze seeds from Dutch Passion.
See this page for UK seed bank reviews.