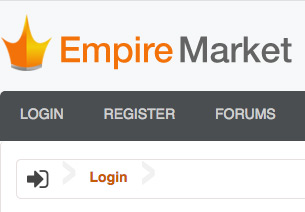 Buying cannabis online may seem like a dodgy, unreliable proposition but those days are well and truly over. No longer do you need to go on a wild goose chase around your locality to find some decent herbs.
The truth is that buying weed using the internet is now reasonably straightforward (thanks to Bitcoin and the Darknet) and there are professional, trusted vendors just waiting to serve your needs as a customer.
I'm going to show you exactly how to do it here on Empire Market, step by step.
Now that recreational weed is legal in California it's only a matter of time before our archaic UK laws catch up.
The police don't have the resources to stop crime going up all over the country, so you can pretty much guarantee they do not have the resources to be pursuing Joe Smith ordering an eighth of weed on the web. It's just not going to happen.  I have personally used this method literally hundreds of times and the orders always come through.
According to one London postman speaking to the BBC:
"I've spent 14 years as a postman in uniform and I have never seen a drug dog."
Another postie confirms:
"If it's got a stamp on it, you post it. We don't have drug dogs to smell every parcel. We don't have the resources to X-ray every parcel. We just have to deliver it and take the risk. Our job is to deliver it safely to the customer."
You can order small amounts with confidence. Don't let fear run your life. You are entitled to use this and all plants. It's almost legal now. It will arrive in an innocent looking packet, double vacuum sealed.
It's a simple 6 stage process, which I would not recommend you try on a mobile. Desktop is easier and in most cases more secure for this type of thing. Let's get started.
1. Buy and store your Bitcoin.
Coinbase is a highly trusted Bitcoin exchange already operating for several years where you can easily buy Bitcoin. One of the largest exchanges in the world. Online verification of ID is required but only normally takes minutes – video explanation here. This has no link to any 'market', people are buying Bitcoin here all the time.
There is also a free sign up bonus of around £8.
An alternative is Local Bitcoins which is an exchange that allows you to buy Bitcoin online from their community using bank transfers, Paypal as well as Pingit and other methods.  The buy can normally be completed easily in a few minutes.
Once you have purchased your Bitcoin, the balance will show in an online wallet as a number probably something like 0.0107293. (That's currently how much Bitcoin you get for £50.)  You may want to price up your products first (see below) and then buy a slightly larger amount of Bitcoin than you want to spend so that you definitely have enough for your purchase.
Now that you have bought your Bitcoin you should then use Electrum  or a wallet of your choice to store your coins, ready to send to your new weed supplier.
Never send coins directly from Coinbase to a supplier, this is asking for trouble, always send to your own wallet first.
Info on how to send funds out of Coinbase can be found here:
https://support.coinbase.com/customer/en/portal/articles/971437-how-do-i-send-digital-currency-to-another-wallet-
2. Download and install the Tor Browser.
https://www.torproject.org/download/download-easy.html.en
You'll only need to do this once. Tor is just like using Firefox or Chrome except addresses end with '.onion' instead of .com. It can take a few seconds for it to create a connection when you first start it, this is quite normal.
Just download it and once it's installed you're away.  Tor can be used to view standard web pages as well as encrypted 'dark' pages.  At this point you may find it easier to open this page in your Tor Browser.
3. Make account on Empire Market using the Tor Browser.
Empire is currently one of the easiest places to find uk cannabis dealers online, and is increasing its user base day by day. It can be very slow, so if you are having problems, be patient and try again in 10 minutes.
No need to use your email address, just use this link to create an account (Tor link, ensure you open in Tor) so you can then log in to Empire Market and place your orders.  Empire does go on and offline a lot lately. It can be used easily though. Workaround below. 
If you are having problems go to this website. You should be able to find a working Empire Link from there and open the url using the Tor browser.
Next click 'Register' and complete the form as shown below, make sure you include the invite code 478998 as shown.
4. Send Bitcoin from wallet to the Empire Wallet.
Once you have logged in to Empire, look for the 'BTC' letters at the top right next to your profile name.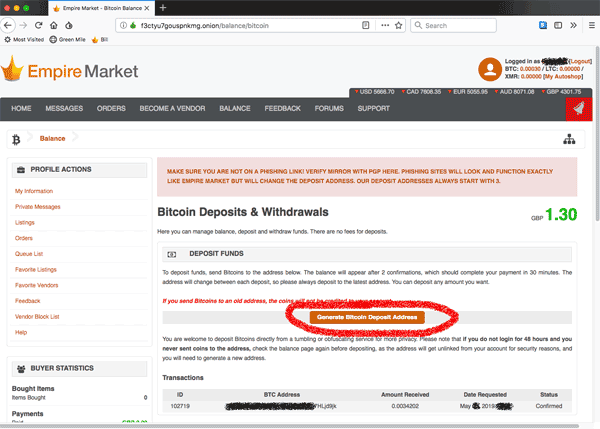 Just to the right of that you can click on the number 0 and you will be taken to your Bitcoin wallet page.
You will need to click on 'Generate Bitcoin Deposit Address' and then a long address will be generated which you can send your funds to from your personal wallet. They may take 15 or 20 minutes to show up there once you have sent them. Don't panic.
5. Place your weed order.
The fun part. Ordering your weed.
I can make a couple of recommendations here.
ShineyBudsUK. He only sells decent weed and offers outstanding customer service, with weed normally arriving next day if ordered in the morning in the UK during the week. Yes really.
You can find easily find him on Empire with the Tor browser.  Now you are logged in scroll down slightly so you can see the search box to the left and then search for 'ShineyBudsUK' as shown on the image below:
(Also to check out there is 'Radarbreeder' – he's on Empire and is very reliable with an excellent reputation on numerous markets built up over recent years.)
There are obviously many other options. Always read their reviews first.  You will be able to find hash, skunk, edibles, oils, cali tins, shatter etc.
I normally stick with UK vendors to avoid packages going through customs, but plenty of people get deliveries from Spain and Germany without problem. You can also filter vendors geographically.
Once the search listings appear, as shown below you can then click on his name to go to his profile:
From here you will see a button to the right hand side which says 'view store'.
Click on this to then see all of Shiney's listings: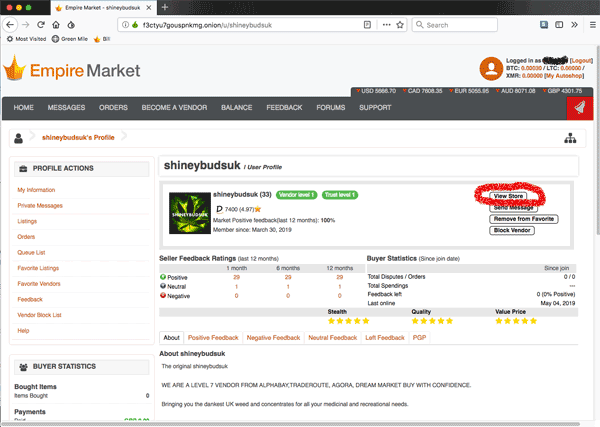 Now simply choose your product. Just click on whichever you fancy and the product page will appear, as you can see below.
Once you have pressed the buy button you will be taken to the next page where you enter your delivery details.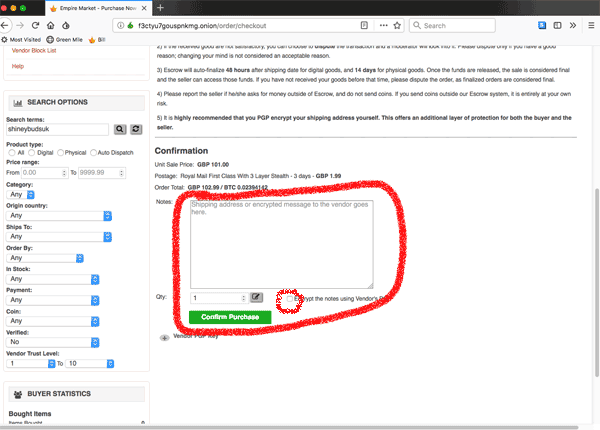 Make sure that you check the small box (also circled in red) to encrypt your address.
Shiney always delivers. Order with confidence.
6. Important. Finalise
Once you have finished doing your little dance when the weed arrives, remember the vendor – he hasn't been paid yet so you MUST log back in to Empire, go to your orders page and click the large finalise button to complete the order and release funds to the vendor.
That way they will not end up getting very frustrated with you. 🙂
---
If you want to be uber safe in your purchase you may want to think about using a VPN (a virtual web connection to disguise your actual location) when using Tor. For small amounts though, I think this may be overkill.
Important note: If you're looking to get hold of cannabis oil for medical purposes, first speak to these guys, who really know their cannabis oil science.
Other options:
You may want to consider getting hold of some legal CBD buds.
They are being sold openly in the UK now and contain very low levels of THC but do contain other beneficial cannabinoids such as CBD which can reduce pain, inflammation and anxiety as well as having other positive effects.
These buds looks just the same as cannabis buds and provide the stress and pain relief of cannabis without the psychedelic brain effects that can occur with THC. Hempelf also sell CBD oils.
This page was last updated on the 6th January 2020.